Kody worked with his 'uncle' Neil Sat. Nov. 22nd, clearing wild roses and brush from our neighbors (across the street) backyard. There was quite a bit growing up and around their RV's covering and they offered Neil $200 plus whatever it cost to take it to the dump. Neil said he'd give Kody $20 if he'd help him load it all into his trailer. Kody was all for it as he wanted to put that $20 with the $20 he got from his Grandpa Jerry and buy a few things, such as new sneakers and a belt.

On Tues. the 25th, he came home from school early complaining of a 'rash' and itching on his arm ... it wasn't too bad, just several bumps here and there. I figured it must be poison oak and I had him start putting on some calamine lotion. We went up camping to the lake the next day ... by Sunday I took him to the ER at the hospital and got him started on some predsione. These pictures are after 6 days taking the meds. Finally he's got relief, but the predsione is disrupting his sleep pattern and giving him 'bad' dreams. He agreed that he could deal with that to be rid of the poison oak ... poor Kody, it seems he goes thru one thing after another.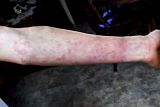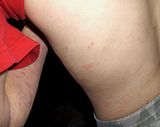 *click on pix to open larger in new window*
The rash was all on just one side of his body and it went further down onto his hip, his pants covering that part. I'm glad it's all drying up and only 5 more days after today to be on the meds.
♥